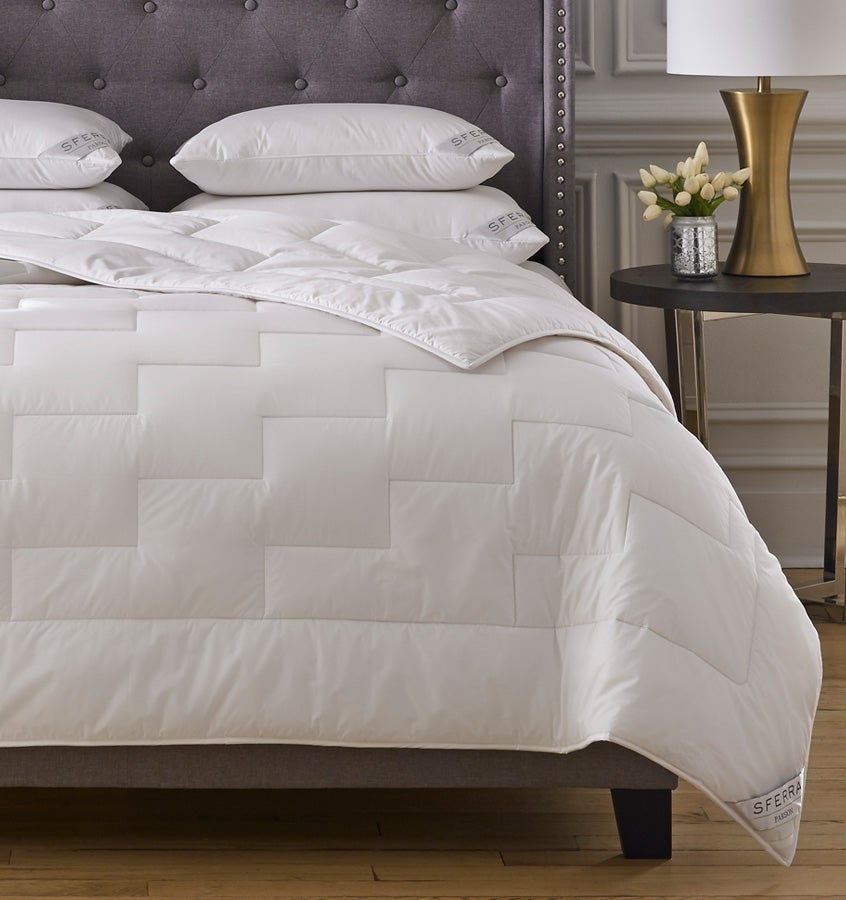 Bedding Questions? We have You Covered
The most common question we are asked in our stores is often what is your best bed linens, duvet or comforter? A very valid question indeed as we are known for our quality bedding; but you should be asking what is the best bedding for me? This little detail creates the ideal dialogue between our sleep speicalists and our valued customers with the greatest changes of sucess for the #1 goal which is the very best sleep.
Sheeting & Duvet Covers
Our carefully selected collections feature Italian made linens from Egyptian cotton, Giza 45, organic cotton bedding, pure linen, and our cooling butter soft bamboo sheeting ideal for hot sleepers.
Duvet Insert or Comforter/Quilt
Although we highly reccomend high quality goose down like our St. Moritz Hutterite 800+ Loft Goose Down or our Somerset 700+ Loft Polish White Goose Down for your duvet insert we offer some excellent alternatives to down including our Arcadia Duvet with their unique filling that gives you the feel of down for that luxury comfort. If your preference is more a comfort or quilted design then our Parson Alpaca Duvet/Quilt is ideally suited for you.
Quick Tip: I have been a big proponent and believer in natural breathable bedding. There are so many options with wool, alpaca, goose down, eiderdown, cotton for your top of bed options in your bedroom.
Thermal imbalalnce is the biggest cause of tossing and turning and lack of quality sleep for most people which is why natural materials are the most ideal for temperature regulation as they not only breathe but regulate heat and humidity as well.
Pillows
What is the right pillow for me? Pillows can often be the most difficult deisicion when selecting the ideal bedding for your mattress. Letting us know your predominant slepeing positing, comfort preference, is your need more softness/comfort or support related and are there any underlying neck issues we need to know about.
Back Sleepers
Consider our Chinook, Sub-0 Chill Cooling Pillow, PLA Organic Cotton Pillow, or our solid organic latex.
Those seeking softness or comfort should consider the Chinook Down or Arcadia Down Alternative in soft. While those seeking more support or a firmer solution should choose our solid organic latex pillow or Sub-0 Gel Pillow.
Side Sleepers
When sleeping on your side or a combo of side and back we highly reccomend our St Moritz Goose Down Pillow, 2  in 1 Organic Shredded Latex Pillow, Arcadia Down Alternative, Montana Firm Goose Down Pillow, Parson Alpaca Pillow, and our Hush 2 in 1 Cooling Pillow.
Side sleepers who prefer a medium or soft comfort should consider our St Moritz, Aurora, or Somerset Goose Down Pillow. A more supportive pillow option for side sleepers would be our Firm Montana Goose Down Pillow, Cornwall Goose Down Pillow, 2 in 1 Organic Latex Pillow, and Hush 2 in 1 Hybrid Cooling Pillow.
 Front Sleepers (Stomach Sleepers)
This was the toughest part to write in this article as we are all about alignment ,correct ergonomics and posture when it comes to your ideal mattress and pillow. Stomach or Front Sleeping position is the worst posture and we highly reccomend training you body to sleep differently or lok into possibly purchasing an adjustable bed. (Future post coming soon on adjustables and how were different).
Now if you are determined to continue in this sleeping position we reccomend a very flat pillow so your spine is not in an unnatural bend or poor alignment. Consider our Organic Solid Latex pillow by Naturepedic, Chinook Hutterite Down by Cuddledown, or our Soft Down Alternative by SFERRA.